Mittlerweile findet man ja Holzplanken zum Grillen auch schon im Baumarkt (nein, nicht in der Bastelabteilung, sondern im Grillbereich). Günstiger geht's, wenn man die kleinen Planken direkt von einem Schreiner bekommt – man muss halt auf unbehandeltes Holz achten und ansonsten auch räuchergeeignetes Holz nehmen (Faustregel: H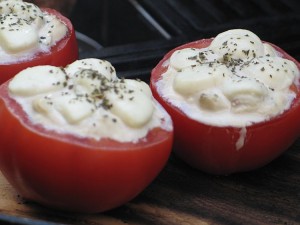 artholz).
Aber was macht man mit so ner Planke? Meist wird ja Fisch draufgepackt, schmeckt gut, schaut gut aus. Aber das geht auch mit Früchten. Mit Tomaten.
Intelligence is to know that tomatoes are fruit. Wisdom is not to put them in a fruit salad.